Availability:

Out Of Stock

Product Code:

Iviora Oxybright

Reward Points:

0
Iviora Oxybright a unique formulation from France with perfect combination of
Astaxanthin (Haemotococcus Plusvialis)

Rose Petal Extract

Hydrolyzed Marine Collagen Peptides (Small Molecule Size of Collagen)

White Fungus & Mixed Berries
---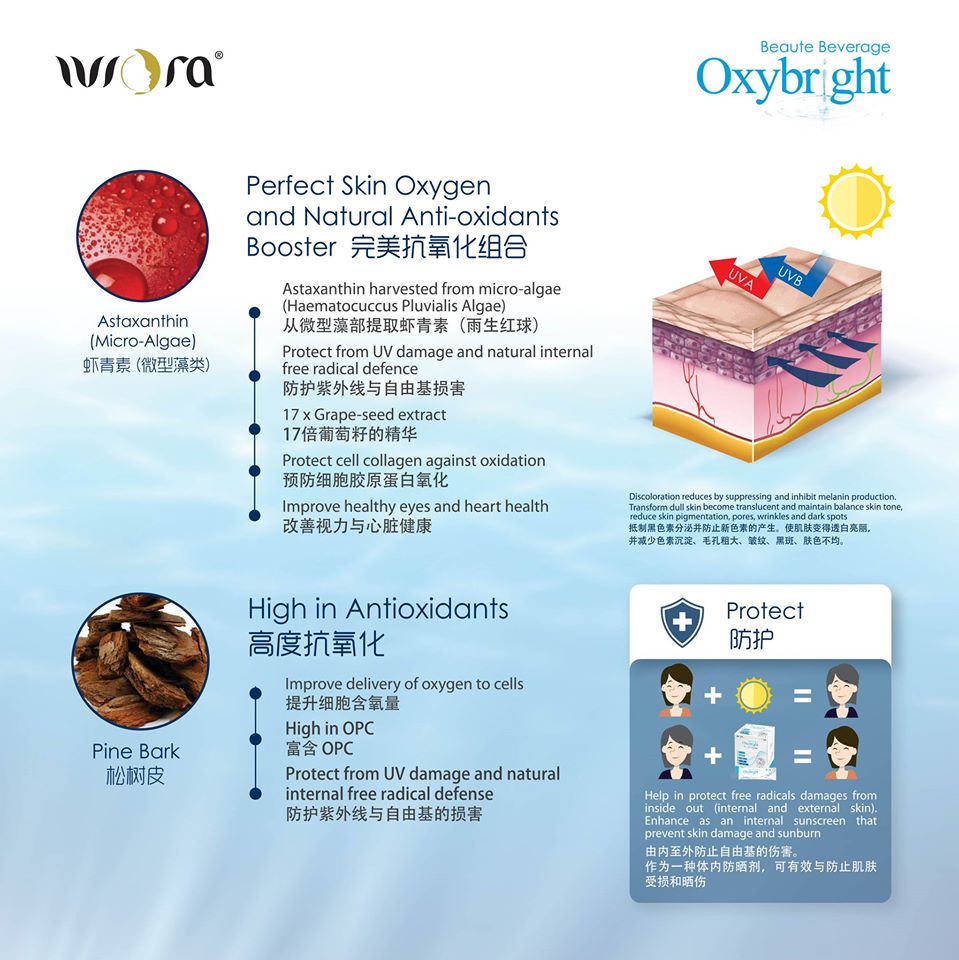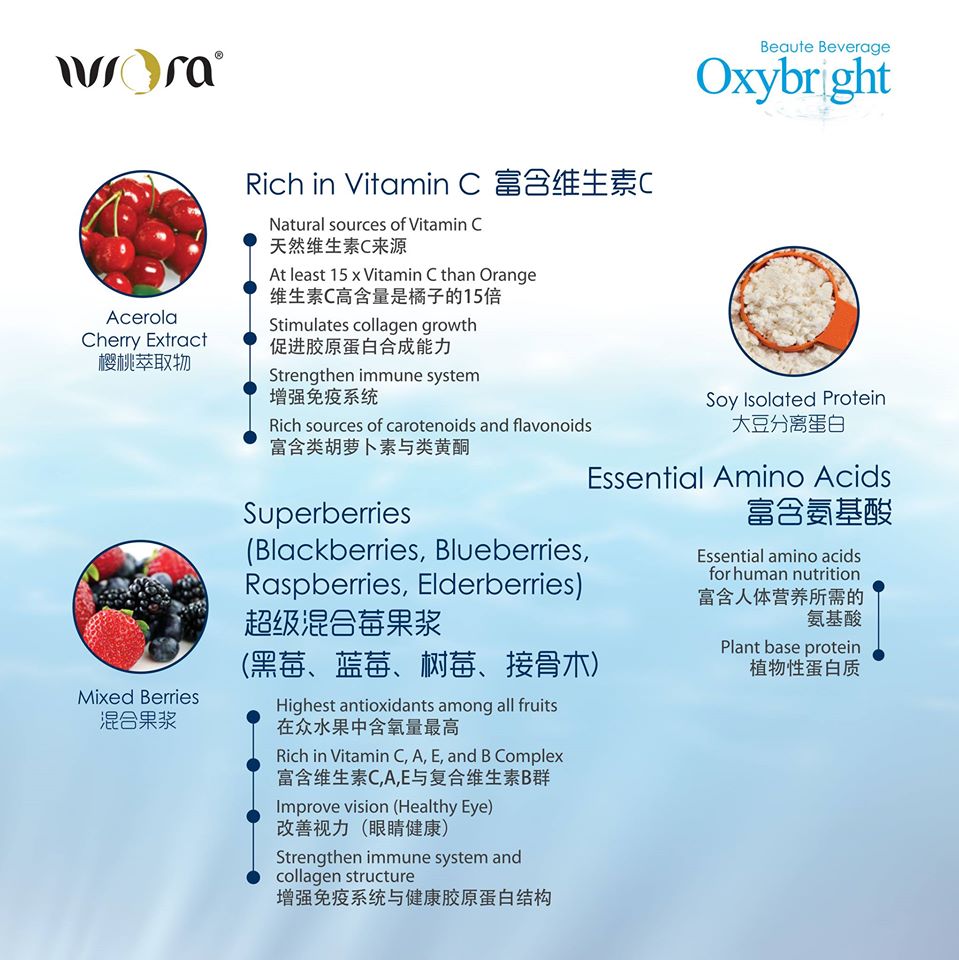 FAQs
Why choose Iviora Oxybright and how does it benefits your skin?
Iviora Oxybright a unique from France with perfect combination of Astaxanthin (Haematoccus Pluvialis), Rose Petal Extract, Hydrolyzed Marine Collagen peptides (small molecule size of collagen), White Fungus and Mixed Berries base on 5 unique elements (Improve, Protect, Maintain, Minimize and Rejuvenate). Iviora Oxybirhgt is a prefect skin oxygen and natural anti-oxidants booster and its effectively in improving skin tone and brightening skin, it also effectively in protecting your skin from UV damages and help in maintain youthful and healthy skin, attenuates age and dark sports, minimize wrinkles, fineline and acne. Besides that, Iviora Oxybright also bind moisture and enhances skin hydration level for a greater absorption into skin with small molecule collagen peptides 1000± and enhancing in replenish and promotes collagen production within body rather than replacing absent collagen.
How long should it take for a visible result?
It varies from each individual and base on our customer result that normally improvement can be notice within 4 weeks but we are confident that you will satisfy and impress with positive result within 4 weeks and there are few important factors that will accelerate the skin improvement such as sleep well, constantly hydrate your skin, consume more fruits and vegetables and reduce the sun exposure to your skin. [Please refer our Full Treatment Suggestion]
Should I continue to take during menstruation?
Yes, this is because higher reduction of collagen in the body menstruation and it is safe because Iviora Oxybright does not contain any hormones ingredients and effectively in building up and produce collagen in your body during menstruation after consume Iviora Oxybright.
When is the best time to consume Iviora Oxybright?
Take 1 sachet in the morning or before bed time on empty stomach for a better body absorption.
Should I take after improvement? What if I stop consuming?
Yes, should continue even after improvements are noticed and it is advisable to continue taking for lasting results and maintaining youthful at all time. Collagen levels will gradually decline as your age, besides the natural aging process, the harsh environment (air-conditioned room and UV damage), unhealthy and stressful lifestyle will accelerate the rate of collagen breakdown in the skin cells. It is recommended to take 1 sachet every 2 days to maintain the good condition of your skin.
Who will benefit from Iviora Oxybright?
Iviora Oxybright is a beauty beverage suitable for both genders. It is not only concentrate on brightening of the skin but it is a powerful oxygen and antioxidants booster for healthy skin and body especially those work and stay up late, facing a stressful lifestyle, work in shift, travel frequently that sleeping pattern constantly affected, can't have a regular meals and imbalanced diet, spend long hour in air-conditioned room, working outdoor that frequently exposed to ultraviolet radiation from the sin, smoker, consume alcohol or hard liquors and those want to improve their poor skin conditions.
Is there any side effect?
All our ingredients in Iviora Oxybright are natural ad is safe to consume daily as it is produced base on KKM guidelines (Food Act 1983 & Food Regulations 1985). Our product contains collagen derived from fish and if you have an allergic reaction to sea foods, please consult with your doctor or other qualified health care provider before using this product.
Direction of Use
Direction of Use
Mix 1 sachet instantly with room temperature water (150ml±), Stir well before serving. Take 1-2 times a day on empty stomach before breakfast or bedtime.