Availability:

In Stock

Product Code:

Iviora Moringa BioEnzymes

Reward Points:

0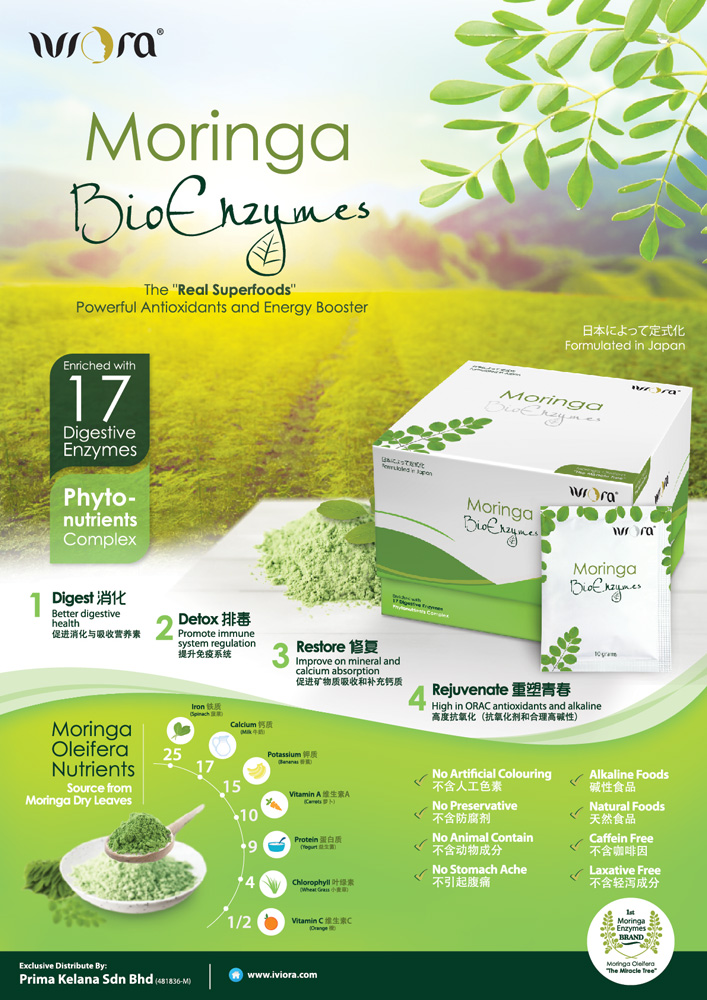 FAQs
What is so unique about Iviora Moringa Bioenzymes?
Iviora Moringa bioenymes is formulated by 5 elements (Enymes, Fibre, Prebiotic, and Anti-oxidants) with 4 unique progress (Digest, Detox, Restore and Rejuvenate) and contain Moringa Oleifera (The Miracle Tree) with 46 anti-inflammatory compound, 18 amino acids, multi Vitamin, multi Minerals, and other nutrients that can restore the natural immune and regenerative abilities of your body to fight against all kind of illness and disease. It also high alkaline that effective and efficient in balance body PH.
Is Iviora Moringa Bioenzymes suitable for everyone?
Definitely suitable and safe to consume by adult and children above 12 years old. Iviora Moringa Bioenzymes formulation is clinically proven with natural and patented ingredients. It provides an optimum health benefits with combination of Moringa Oleifera Powder, 17 Digestive enzymes, Dandelion, Milk Thistle, Bifidosbacterium Longum BB536, FOS, GOS, Konjac, Nutriose and Psyllium Husk.
Is Iviora Moringa Bioenzyme safe for daily consumption?
Yes, It is safe for daily consumption because its fully natural, caffeine free, laxative free and without any preservative, artificial coloring, animal contain and produced base on KKM guideline (Food Act 1983 & Food Regulations 1985).
Direction of Use
Direction of Use
Mix 1 sachet instantly with warm water (150ml±), Stir well before serving. Take 1-2 times a day after meals.